Even when adding a site to a trusted site in Internet Explorer sometimes you get these warnings :
"Do you want to view only the webpage content that was delivered securely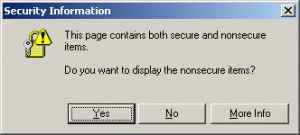 This webpage contains content that will not be delivered using a secure HTTPS connection, which could compromise the security of the entire webpage."
"This page contains both secure and nonsecure items. Do you want to display the nonsecure items?"
If you want to get rid of these : Go to
Tools
->
Internet Options
->
Security
Choose "
Internet
" Icon ( And if you have added the site to a trusted site you will need to do this for the
trusted sites
as well ) Click the "
Custom Level
" button In the "
Miscellaneous
" section change "
Display mixed content
" to
Enable
. Restart Internet Explorer – Jobs a Goodun!