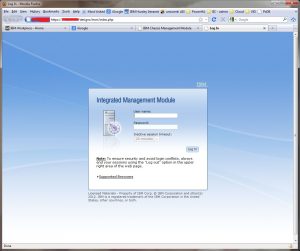 Been working on a IBM X3550 M4 Server. When trying to login to this server using Internet Explorer 11 the pages refresh and just takes me back to the login screen!
This still does not work if I add the IMM site to Trusted Sites or Compatibility mode
Next I try Google Chrome which Logs me in  however this does not use the JAVA integration so I can't use the Remote Management Java interface to control the server
Next I install Firefox which Logs me in and lets me launch the Java Applet ( Once I have added this to Permitted sites in Java Control Panel Security ) however I am greeted with an Error
AvctIBMviewer.jar invalid character in hostname
Turns out it does not like me to refer to the Ilo via DNS name ( Maybe because it has an _ in the name )
Once I use the IP , I can launch the server Ilo 
Once the IMM Firmware is updated to 5.8 I can login to IMM with Internet Explorer 11
GD Star Rating
loading...
GD Star Rating
loading...