iLO HP ML380 G7 Certificate Error SSL_ERROR_BAD_MAC_ALERT / ERR_SSL_VERSION_OR_CIPHER_MISMATCH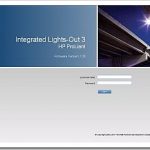 On trying to get to it in Firefox I was presented with 
SSL_ERROR_BAD_MAC_ALERT 
On trying to get to it through Chrome I was presented with
This site can't provide a secure connection

10.0.0.2 uses an unsupported protocol.
ERR_SSL_VERSION_OR_CIPHER_MISMATCH

The client and server don't support a common SSL protocol version or cipher suite. This is likely to be caused when the server needs RC4, which is no longer considered secure.
We tried through CLI : 
load -source http://webserverip/iso/ilo2_229.bin /map1/firmware1
However this was giving us errors for some reason
We found a workaround in Internet Explorer is to disable TLS 1.2 (Tools >
Options > Advanced > UNTICK Use TLS1.2). 
After Restarting IE , it logged us into the ilo , however this was not the stop of the problems , upgrading to the latest firmware 1.57 gave us errors
We had to update to 1.28 first , then we could upgrade to the latest , below is a link to someone has all the links to the correct BIN files
HP ProLiant ILO firmware
iLO HP ML380 G7 Certificate Error SSL_ERROR_BAD_MAC_ALERT / ERR_SSL_VERSION_OR_CIPHER_MISMATCH

,
Tags: 3, 380, bin, CHrome, ERR_SSL_VERSION_OR_CIPHER_MISMATCH, Firmware, HP, iLo, ML, SSL_ERROR_BAD_MAC_ALERT
Trackback from your site.