Office 365 Send Connector Validator Failed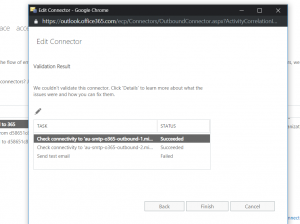 Recently I tried to setup a 365 Send connector to relay it through another third party Mimecast ( https://community.mimecast.com/docs/DOC-1623 ) . Mimecast confirmed they had enabled the Tenant domains to relay through Mimecast.
The send connector was Failing as the last Step, however I was receiving the email. After numerous calls with office 365 support they came back with the reply "We don't support technical help with Third Party SMTP Servers"
Checking the headers on the email that came through showed the validator wasn't even relaying through Mimecast.
Enabling the Send Connector and trying again resolved the issue , however it's a flawed design , because after enabling it during the validation if any user tries to send out and it doesn't work they will produce an NDR
GD Star Rating
loading...
GD Star Rating
loading...
Tags: 365, failed, mimecast, send connector
Trackback from your site.