A script in this movie is causing Adobe Flash Player 10 to run slowly
?Recently a user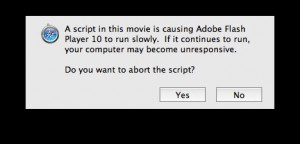 tried to go to a web page with Flash Adverts , and it brought up the following error message "A script in this movie is causing Adobe Flash Player 10 to run slowly. If it continues to run, your computer may become unresponsive. Do you want to abort the script?  Yes / No." I test to a flash site such as YouTube proved no problems at all I used Reinstalled Adobe Flash , with still no joy , Removed Adobe Flash using the
Adobe Flash Uninstaller
then tried to reinstall but still problems.
Tools
,
Internet Options
,
General Tab
,
Browsing History
,
Delete
Chose the following : History , Cookies and Temporary Internet Files , Press delete and this fixed the error!
Tags: A script in this movie is causing Adobe Flash Player 10 to run slowly
Trackback from your site.