Avaya IP Office – Default Gateway
So you have configured your IP Office System with IP's on your LAN 1 and LAN 2 ports however you want it to access the internet, how do you set the default gateway?
You will need to go to IP Route and set the default route for Traffic
IP Address ( 0.0.0.0 ) ( All Addresses )
IP Mask ( 0.0.0.0. )  ( All Addresses )
Gateway IP Address : IP of your gateway 
Destination: the Lan port that is on the same network as the Gateway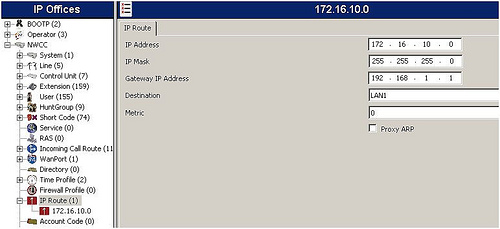 Now how do you test using a ping?
You will need to go to the computer with the Avaya IPO Client and open Avaya System Status
go to the IP Networking section at the bottom and expand it, then click on IP Routes. At the bottom of this page you will see a button labelled Ping. Clicking on it allows you to choose the interface to ping from and then also a box to enter the address to ping.
Tags: Avaya, default gateway, IPO, ping, routing, test
Trackback from your site.