Unfortunately last month I came back to my Vauxhall Astra MK4 only to find out someone had reversed into it with a tow bar. Upon inital upset I found a new replacment bumper for my ASTRA MK4 on ebay in my exact colour ( Matt Black ) for £30 ( £45 Inc Delivery ). This wasn't too bad I thought as my other bumper did have some wear and tear! After I recieved the bumper my next task was to swap the bumpers .. easier said then done. Luckily I found an online guide
here
Here goes my Guide ( Click on pictures to get a larger version ) :
Tools :
No.20 Torx Bit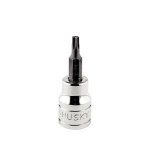 Small Flat Screw driver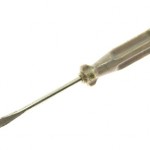 Long Nose Pliers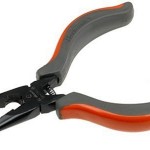 Step 1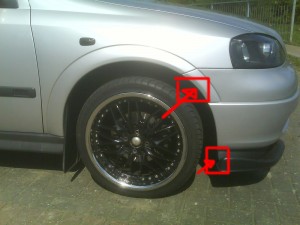 Using the Torx 20 Screw Driver , Under 2 Screws on inside the right and lef wheel arch as shown via the picture. If difficultly getting the screwdriver in  , turn the stearting to full right and left lock depending on the side

Step 2
Get undernearth the bottom of your bonnet. You are looking for 3 Clips as shown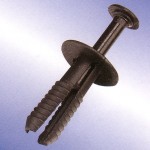 . Use the flat head screwdriver to leaver the top of the pin out, after this has come out , Pull the rest of the pin out with the long nose pliers. After these have been removed , gently  pull the sides away of the wing's of the bumper as shown to loosen them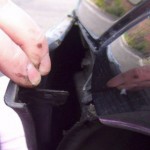 Step 3
Open the car bonnet ( Leaver by the side of the driver footwell! ) and find 2 more clips on the top of it. Use the screwdriver again to leaver out the top of the pin, then use the long nose pliers to pull out the whole pin. Once these are out you can gently pull away at the side and the front and the bumper should come right off!
Things to remember to take off your old Bumper!
– Number Plate , Tow Bar Cover , Metal Clips for Screws