Printing Errors with Terminal Services 2008 and Easy Print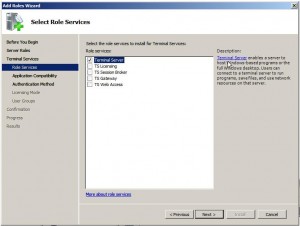 Microsoft has improved the Printer Redirection on Terminal Services in 2008 by Ultilising their own print driver called "Easy Print". This means the specific printer driver doesn't need to be installed locally on the server for the redirection to work. There are some minimum requirments for this to work:
The RDC 6.1 (6.0.6001) client supports Remote Desktop Protocol 6.1
At least Microsoft .NET Framework 3.0 Service Pack 1 (SP1)
If you are using Windows Vista you will need to have Service Pack 1 Installed. If you are using Windows XP you will need to have Service Pack 3 installed. Windows 7 out the box supports this. This will fix any issues with the printer not being redirected on the Terminal Server. Sometimes with all this enabled, the printer being redirected, easy print will still have problems interfacing with the printer. If this is the problem , try the following :
Turn Off Advanced Printing Features
Log Off your Terminal Server Session ( To Remap the printer after ) On your
local PC
, you do the following: Go to Control Panel. Select Printers. Right-click on your Printerand choose Properties. This will bring up a window similar to the one below – select the "Advanced" tab. On the Advanced tab,
uncheck
the option that says "Enable Advanced Printing Features" Log Back onto the Terminal Server and try printing again
Download Easy XML Update
http://support.microsoft.com/kb/2431806
Tags: Easy Print Advanced Printing, Printing Errors Easy Print, Symbols Easy Print
Trackback from your site.