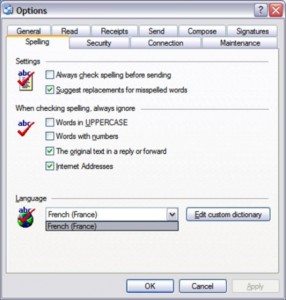 I had just upgrade a Users computer to Office 2007 , They wanted to use Microsoft Outlook for their work email and utilise Outlook Express for their peronsal email. However upon opening the spell checker it had been changed to the French dictionary. I also noticed that I was unable to change it back to the English dictionary.
Turns out this is noted fault from Microsoft! http://support.microsoft.com/kb/932974
Their solution is to download and install Windows Vista / Windows 7 New Version of Outlook Express = "Windows Live Mail"
I know how users get attached to their software , and the way it looks and feels! So luckily I found a solution so the user could still utilise Outlook Express Spell Checker
This is to Download and Install : http://www.snapfiles.com/downloads/dlspelloe.html ( Which is Spell Checker For OE 2.1 )
Just to note , this will only restore English ( United States ) Language
GD Star Rating
loading...
GD Star Rating
loading...