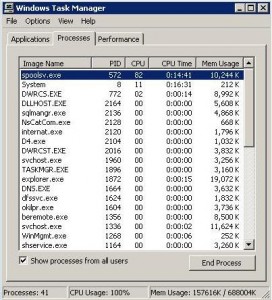 When a user tried to print to a local printer on a Windows 2008 Terminal Server , the error was display

"There is no enough space no the disk"
Checking on the local server the C Drive had 5 Gigabyte Free of 70 Gigabytes and I could create folders in the root of C: without a problem.
I checked Disk Quota's to find the NT Authority\System account had reached it's maximum quota limit of 15 Gigabytes. Upon raising this the  System account would automatically fill the free space until it was out of space again at a rate of 1mb/s.
On checking task manager, Spoolsv.exe ( Printer Spooler ) was using 40-60% of the CPU. I restarted the print spooler and this reduced the System Profile size to under 10 Gigabytes and resolved the printing issue
GD Star Rating
loading...
GD Star Rating
loading...