MAC OSX Maverick upgrade breaks keychain password on Startup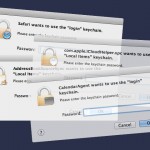 I recently went to fix 2 Macs that had been updated to Mavericks and were displaying login prompts below for Keychain Access
CalendarAgent
accountsd
AddressBookSourceSync
There are multiple fixes on the internet which eventually fixed them both
First Fix
Open Up Keychain Access
Click on Preferences
Go to General
Reset My Default KeyChain
Go back to Preferences then choose KeyChain First aid and run a repair and fix
Second Fix
In Finder Select Go in Top Toolbar while pressing the Option key and Click on Libray
Go into the /Keychains/ Folder
Look for a folder with a name similar to this "A8F5E7B8-CEC1-4479-A7DF-F23CB076C8B8".
Move this folder to the Trash.
Immediately choose Apple Menu (?) > Restart… to restart your Mac.

Third Fix
Go into Keychain
Choose Preferences
Choose First Aid Tab
Choose "Syncronise login keychain password with account"
Try this if it's asking you every 5 minutes, instead if just on startup.
http://www.igorkromin.net/index.php/2013/10/28/calendaragent-wants-to-use-your-login-keychain-messages-after-upgrading-to-os-x-mavericks/
Tags: accountsd, AddressBookSourceSync, CalendarAgent, keychain, Mac, Maverick, OSX, password
Trackback from your site.