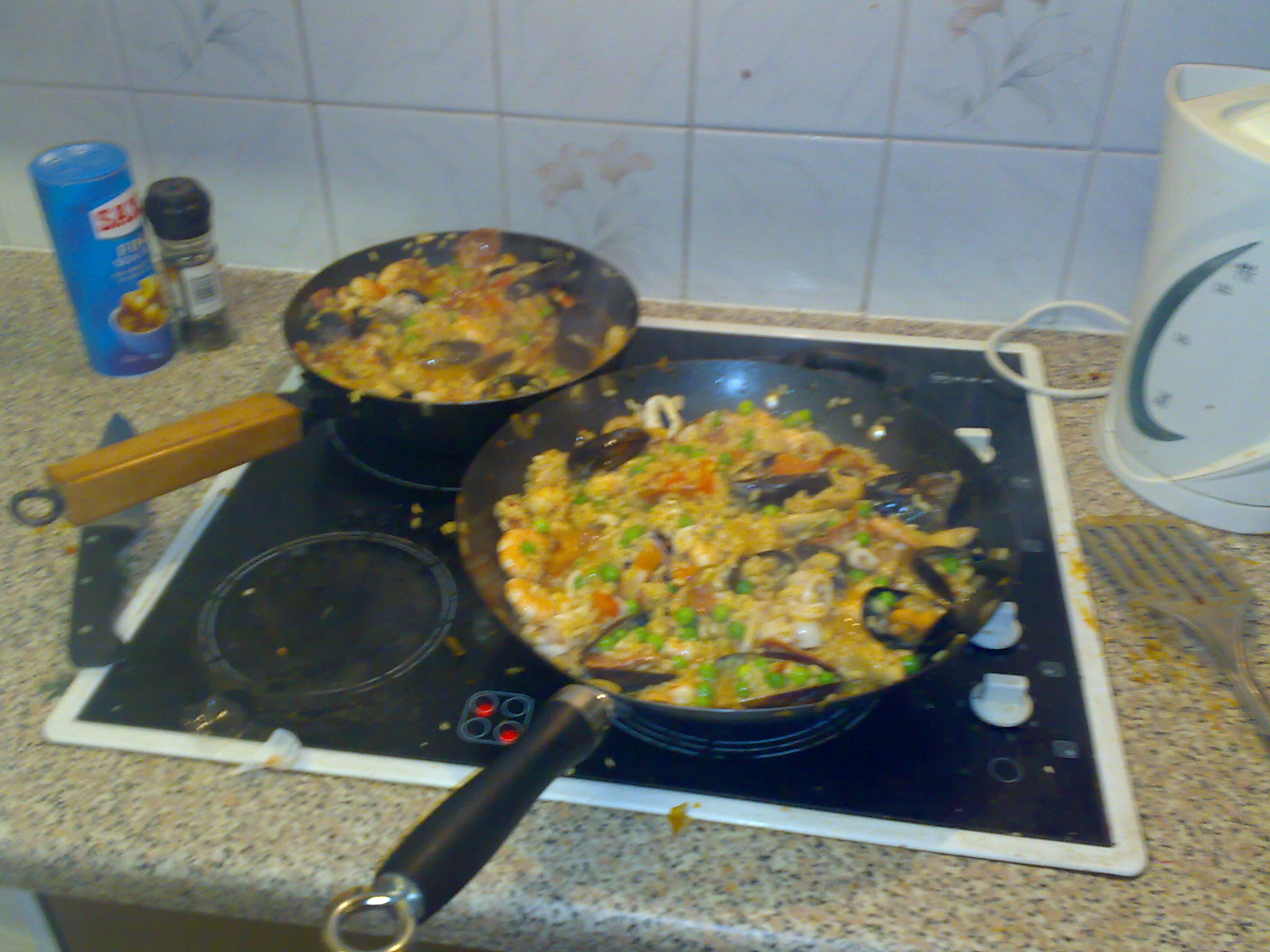 Based on Gordon Ramsay Paella
Gordon Ramsey Reciepe Books
Ingredients
4 tbsp olive oil, plus extra for drizzling 3 Tesco Onions 1 large red pepper, deseeded and chopped 3-4 garlic cloves, peeled and thinly sliced Few sprigs of thyme 6 chicken thighs, de-boned and cut into bite-sized pieces Sea salt and freshly ground black pepper 125g chorizo, sliced ( Sainsbury's/Tesco Delicatessen) 1 tsp paprika 400g Spanish or short-grain paella rice Glass of White Wine 1/2 tsp saffron strands Can of Chopped Tinned Tomato's ( Drain Liquid ) 300g Muscles 300g Cooked prawns (whole or heads removed) 200g peas (thawed, if frozen) 300g squid, cleaned and sliced into rings Handful of flat-leaf parsley, leaves chopped 1 lemon, cut into wedges to garnish Preparation
Muscles
I prefer to cook the muscles separately then add to the paella , there is a lot to check for with muscles , the Golden Rule is if they are open before cooking throw them out , and if they are closed after cooking throw them out! It also helps to strengthen the taste of the muscle by simmering with the left over wine.
Scrub the Muscle shell down, De-beard the muscles (Pull or Cut any hair on the outside of the shell) , any open muscles that are open tap on the work surface , if they still do not close throw away.
Method
1
Put the kettle on to boil. Heat the olive oil in a large paella pan or a large wok. Add the chopped onions, peppers, garlic
and thyme. Fry off the vegetables for a few minutes until the onions begin to soften and go a golden caramel colour. Season the chicken with salt and pepper and add to the pan along with the chorizo and paprika. Fry, stirring frequently, over a high heat to lightly seal the meat. The chorizo will start to ooze a lovely golden oil.
2
Tip in the rice and a drizzle of oil, if necessary. Stir well to ensure that each grain of rice is coated in oil. Pour in the glass of white wine and allow it to evaporate before adding about a litre of chicken stock or plain boiling water, which should come roughly 1cm above the level of the rice. Reduce the heat, bring the liquid to a simmer and add the saffron. Stir well to distribute the strands. Add the tomatoes with salt and pepper. Simmer for 10-12 minutes, stirring occasionally to prevent the rice from sticking, but take care not to over stir or it will release too much starch.
3 While the paella is simmering, heat a pan up with oil, add garlic and onions, and fry off. Add the muscles and then enough white wine to boil them in , cook for 4 Minutes or until all the muscles are open . Strain the muscles and leave to stand.
4 Add the cooked muscles and prawns, topping up with more boiling water if necessary, and stir through so that the shellfish are submerged. Finally, stir in the squid and peas. The squid should only take 2 minutes to cook – it will turn opaque when ready. Season to taste.
5 Take the pan off the heat, cover with foil and leave the rice to stand for 5 minutes. To garnish, sprinkle with a handful of chopped parsley and arrange the lemon wedges around the pan. Bring to the table and serve immediately.
Easily Serves 6 People – Very Filling!