Outlook Addin Tab not showing in Outlook 2010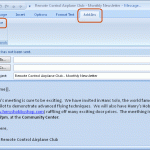 Recently we had an Outlook issue , where an Outlook Addin's tab in the ribbon would not show in a users outlook , however on the same Windows profile and different Outlook profile the tab would show.
We checked to make sure the plugin with enabled in the Registry and Outlook and also reset all the custom tabs however only the Addin's Status would show up in the Add In's Tab instead of it's own.
Speaking to the provider of the Addin , proved the add-in was actually licensed by email Domain name! We got the users Domain name added to the license file and voila , came straight away!
Tags: Add-Ins, Addin, License, Not Showing, Outlook, Tab
Trackback from your site.