FORTIGATE : Don't buy from the market place , talk to Fortigate it was 70% cheaper to BYOL
Bringing your own Server license to azure works out a lot cheaper than renting it off Microsoft per the Azure Monthly fee. 
When you buy a license with Software Assurance, this comes with Licence Mobility to bring into other environments. Reading through this Licensing Programmes – Eligibility requirements | Microsoft Azure , however, there is one item
"Windows Server, the Windows® desktop operating system, and desktop application products are not included in Licence Mobility through Software Assurance."
What applications are included in Licence Mobility through Software Assurance?
Exchange Server
SharePoint Server
SQL Server Standard Edition
SQL Server Enterprise Edition
SQL Server Business Intelligence Edition
Skype for Business Server
System Center Server
Dynamics CRM Server
Dynamics AX Server
Project Server
Visual Studio Team Foundation Server
BizTalk Server
Forefront Identity Manager
Forefront Unified Access Gateway
Remote Desktop Services
BUT there is another program Azure Hybrid Benefit to the rescue
Types of license
Windows Server Standard with active Software Assurance, or
Windows Server Datacenter with active Software Assurance, or
An eligible Cloud Solution Provider (CSP) subscription
Note Cloud Solution Provider (CSP) Perpetual is NOT covered for Hybrid Benefit and does not qualify for SA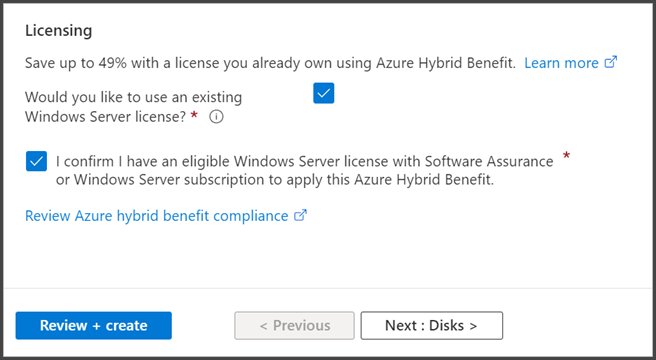 Minimum BYO Cores to Azure is 16 which gives you 2 x VM's up to 8 cores
Licenses : 1 x 16  Core Windows Server 2022 CSP license ( 2 VMS 8 Core )
You have to buy Core Packs in Groups of 16 , so if you have an odd number of VM's its going to be a bit more expensive !
Each 2-processor license or each set of 16-core licenses is entitled to two instances of up to 8 cores, or one instance of up to 16 cores. The Azure Hybrid Benefit for Standard Edition licenses can only be used once either on-premises or in Azure. Datacenter Edition benefits allow for simultaneous usage both on-premises and in Azure.