How to open .DSTX Files from SQL Server
So you've found an issue in a Package in a Project for a DataSynchronization in a Integration Services Catalogs ( .dtsx file ) that you want to edit?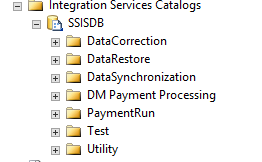 Install if its not already on it and open SQL Server Data Tools
Click on File and New Project
Choose this Project
Choose "Intergration Servies Catalog" and Open the project

You should see the .dstx files on the right under
GD Star Rating
loading...
GD Star Rating
loading...
Tags: .dtsx, DataSynchronization, Integration Services Catalogs, SQL, SSIDB
Trackback from your site.