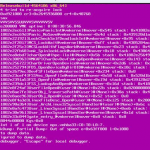 Recently installed VMware-ESXi-6.5.0-OS-Release-4564106-HPE-650.9.6.0.28-Nov2016.iso after installing the lastest support HP Firmware : 871790_001_spp-2016.10.0-SPP2016100.2016_1015.191.iso
On a G8 Proliant server , upon Vmotioning servers onto the box 5 minutes after the install, I got a purple screen of death
Contacted Vmware
This PSOD is a known issue with the HP Hardware server in ESXi 6.5.

This is still under investigation and VMware Engineering Team is aware of this issue.

The  Primary suspect is the hp-ilo driver failing to unlock the resources before attempting to lock again which is causing a deadlock situation.

Recommendations:
To contact HP Hardware Support to see if they have any workaround for this issue.
We will get back to you when VMware Engineering Team has a fix/workaround on this issue.
Ask to see the KB
This particular KB is internal only, currently we do not have a public version as VMware and HP are working together on this issue.
Contacted HP
HP saw nothing wrong with the Hardware or iLO wanted to replace motherboard.
I've had this before this is their go to if they don't know what's wrong
This looks to be a common theme : 
https://communities.vmware.com/message/2632536
https://communities.vmware.com/message/2633912
Will ESXi 6.5 work on HP Gen6 servers? from homelab
The fix at the moment is to install the Vailla version of 6.5 ( without HP drivers ) which stops Vmware on reporting the hardware or to roll back to 6.0 UP 2 ( which is a reinstall! ) 
***** Update , HP have fixed their iLO Driver
https://kb.vmware.com/selfservice/microsites/search.do?language=en_US&cmd=displayKC&externalId=2148123