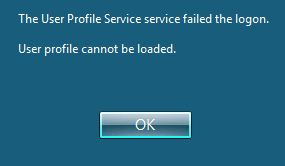 When a new user was logging into Windows 7  machine the following error messaged dispalyed : "User Profile Service service failed the logon Windows 7". This is usually down to a corrupt user profile, so I logged in as administrator and tried to find the users profile however is was not loaded in the registry or registered as a user profile in the System Advanced Settings.
Looking round the easiest resolve seemed a system restore to a previous date however this did not fix the issue. I checked the event log to find there was a user profile being setup in C:\Users\ area. After checking the folder I tried to delete all the tempory user profiles for the user ( e.g. .000 and .001 ) however I couldn't due to permissions.
I opened the comma nd windows up as administrator and used the ' rmdir /s /q "C:\Users\Username" ' command however there where some files I couldn't delete involved with the rapport service. Looking into the event log , when the profile was being built it was having issues copying in the .cfg's files for Rapport.
I unistalled rapport , removed the temporary directorties and it worked!