Posts Tagged 'Telnet'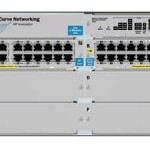 Recently a HP 5406 Switch randomly crashed in the middle of a working day. A reboot fixed this however , we wanted to update the firmware from V12.16 to the latest version  K.15.09.0012, ROM K.15.28
The link to the latest firmware is here :
https://h10145.www1.hp.com/Downloads/SoftwareReleases.aspx?ProductNumber=J8697A&lang=en&cc=us&prodSeriesId=1827663
After backing up all the config, We downloaded the K.15.09.0012 firmware to start with. These switches have Primary and Secondary firmwares which allows some fault tollerence when it comes to an upgrade. If the Primary firmware fails it will switch to secondary so you can reflash
Upon trying to upload the K.15.09.0012, ROM K.15.28 via the web interface , it error-ed on Internet Explorer and Firefox with no immediate error. The next method we tried was a Telnet Firmware Upgrade , a bit more long winded.
We setup a TFPT server to be able to download the
Just download this free TFTP Server tool and setup defaults and copy the firmware to C;\TFPT ( or your default location )
Next we telneted into the Switch , and used the Command Menu to bring up the Switch Menu
We then went to Download OS , entered the TFTP IP of the PC with the file and the file name , and it brought back
"Aborted, File Error"
OK so the switch is bouncing back the file , probably because it's referencing something with the current version ( The web interface should of been nice and told us this! )
After checking the ReadMe for the 15 upgrade , we found the following :
(BootROM K.12.12 – K.12.14)  Update and reload into software version K.13.58 or K.13.68
So we updated to K.13.68 (for BootROM updates only) via telnet which worked , and then updated to K.15.09.0012, ROM K.15.28
GD Star Rating
loading...
GD Star Rating
loading...