DHCP Memory Leak in Event Log Not Assigning Address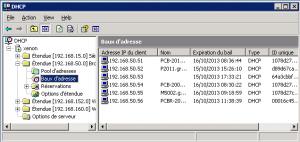 Recently had a problem with a DHCP server no leasing out DHCP address randomly. Restarting the service would not fix this , the only thing that would bring it back would be a server restart.
The last entry in the log files would be a Renew. The DHCP database looked fine. There was a DHCP Memory leak in the event log.
The server assigned address for over 1500 Clients , however it was using the E1000 Adapter , once we changed this to VMXNET 3 it resolved the issue
Tags: C:\WINDOWS\SYSTEM32\MMC.EXE, DHCP, MMC, not leasing address, ossible Memory Leak. Application, windows dhcp
Trackback from your site.